Scorched Ruins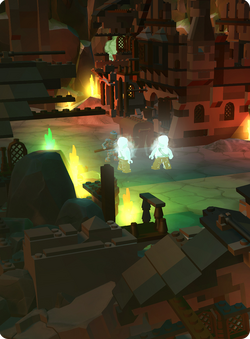 Requirements
You have to be Level 6.

Worlds Accessible
Volcano Island

Enemies
Corsair, Skeleton Swashbuckler, Scallywag, Skeleton Defender, Grenadier, Rattely Bonesly.

Major Characters
None

Interactive map
Not available
"Rattely Bonesly and his undead pirate crew are still causing trouble in the city ruins."
The Scorched Ruins are a Pocket Adventure in the Pirate World. It can be accessed from Volcano Island.
Minifigure Parts
The following minifigure parts could be found here:
(Free-to-Play)
The following minifigure parts can be found here:
(Buy-to-Play)
Champions
Character Points
Notes
Trivia
Previously you only needed to defeat Rattely Bonesly; now you must defeat him and a number of enemies to conquer the dungeon.
Gallery