Pirate Storage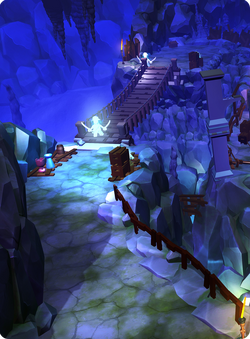 Requirements
The player has to be Level 3.

Worlds Accessible
Isle of Yarr

Enemies
Grenadier, Scallywag, Corsair, Spider Egg, and Wrinkles Barrelgut.

Major Characters
None

Interactive map
Not available
  "Pirates use these deep caves to store their plundered loot."
Pirate Storage is a Pocket Adventure on the Isle of Yarr in the Pirate World.
Minifigure Parts
The following minifigure parts could be found here:
(Free-to-Play)
The following minifigure parts can be found here:
(Buy-to-Play)
Champion
The Champion is Wrinkles Barrelgut.
Note
If you defeat Wrinkles Barrelgut on his starting platform, then the member loot chest could fall on top of the free one. You may have to stop and wait for the sound of the chests falling again before you can open the free one.
Trivia
Conquering this dungeon used to involve defeating only the champion; now it requires defeating him and most of the enemies.
Gallery