Crimson Chamber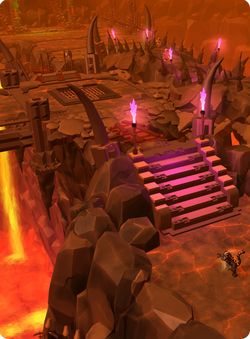 Requirements
You have to be Level 6.

Worlds Accessible
Volcano Island.

Enemies
Fire Monkey, Skeleton Archer, Skeleton fighter, Skeleton Vanguard, Fire Hound and Fireling.

Major Characters
None

Interactive map
Not available
"With brimstone in his heart and fire on his mind, the beast of the volcano is not very kind."
The Crimson Chamber is a Pocket Adventure in the Pirate World. It can be accessed from Volcano Island.
Minifigure Parts
The following minifigure parts could be found here:
The following minifigure parts can be found here:
Minifigure-Specific Achievements
Conquer the Crimson Chamber for 25 points each as:
Conquer the Crimson Chamber for 50 points as:
Smash 50 Drakes, such as Fireling, for 50 points each as:
Smash 50 Drakes, such as Fireling, for 100 points as:
Notes
Gallery