Crikey the Kraken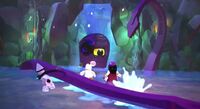 Boss
Crikey the Kraken is the final boss of Treaure Island. Defeat him to conquer the area and receive free and member Loot Chests.
Attacks
When the player enters his area they must fight three small waves of ghost pirates. After defeating all of them, two large tentacles will appear and begin attacking. They will slam down on the player, stunning them. If you get to the side of the arena, he will drop a tentacle and slide it across half of the arena, destroying the quick build as it comes to the middle. If you are hit when it's sliding it's tentacle, you will be thrown to the center of the arena. when he is low on health his head will rise up from the middle pool. Then he will start to shoot ink balls from his eye, slowing you if you land in his area.
Quick Builds
The quick builds in this battle include two spike platforms, and one heart stand. The heart stand is in the middle, and when built it will drop three hearts which refill your health. At the sides of the arena there are two spike platforms to use against him. these are used to stun Crikey's tentacles if he hits it with a solid smack.
Gallery
Enemies
Regular enemies
Alpha Wolf · Ballista · Bewitched Treeman · Cannon · Corsair · Crimson Leg Crawler · Crooked Tooth Brute · Crooked Tooth Crusher · Crooked Tooth Crusher · Crooked Tooth Defender · Crooked Tooth Fizzler · Crooked Tooth Hunter · Crooked Tooth Hunter · Crooked Tooth Hurler · Crooked Tooth Piper · Crooked Tooth Ruffian · Crooked Tooth Shaman · Crooked Tooth Smasher · Desperado · Dragon Cult Brawler · Dragon Cult Crusher · Dragon Cult Piper · Dragoon · Ember Hatchling · Fire Hound · Fire Monkey · Forest Leafling · Forest Leafling · Forest Treeman · Grenadier · Grey Wolf, Summoned Wolf, Boom Shroom, Spore Shroom, Sweet Tooth Fizzler · Hophop Shroom · Hophop Shroom · Hunter · Icefoot Ruffian · Jester's Crony · Jungle Trickster · Lieutenant Gruffy · Medic · Mudfoot Brawler · Mudfoot Crusher · Mudfoot Defender · Mudfoot Hunter · Mudfoot Piper · Mudfoot Shaman · Musketeer · Pirate Cannon · Razorback · Scallywag · Scout · Skeleton Defender · Skeleton Fighter · Skeleton Fighter Crooked Tooth Brawler · Skeleton Musketeer · Skeleton Swashbuckler · Skeleton Vanguard · Spider Egg · Spider Mound · Spiderling · Summoned Gremlin Spawned Gremlin · Moon Gazer · Summoned Skeleton · Summoned Spider · Sweet Tooth Fizzler · Sweet Tooth Ruffian · Tiger · Witch Doctor
Champions
Arrgo Chief of Cargo · Beastmaster Wulfgar · Big Bad Wolf · Black Widow · Bork, Guardian of Fire · Bull the Armsmaster · Captain Dreadleg · Captain Pete · Charr the Gatekeeper · Chlora the Fungomancer · Chug · Chunk the Tiger · Crazy Kotaki · Crikey the Kraken · Crimson Leg Gargantuan · Derp the Internet Troll · Fireling · Giant Spider · Gnaw, Guardian of Strength · Grollsh, the Nightkeeper · Guardsman Bob · Gunnar Grenade · Harry Grenade · Hoodai · Itsy Bitsy · Jester · Karna Itta · Krash, Arena Champion · Krook, Guardian of War · Lieutenant Gruffy · Maggut the Beast Tamer · Mandreas · Monkey Kong · Mukko Serioso · Ouch Ouch · Packmaster Uhrik · Pieromancer Elementius · Quicksword Billy · Rack · Rall · Rattely Bonesly · Redwing the Firequeen · Rezaruh the Ancient · Rootbrick · Schweethurt · Siegemaster Orrok · Skimpy Bob · Skram Gatecrasher · Smuggy Totembound · Temper · The Bridge Troll · The Chamberlain · The Weaver · Tic, Tac, Toe · Tikka Bomba · Totemus Maximus · Two Eyed Willy · Twonky the Laboratorist · Tyrant, the Drill Sergeant · Uggluk Gatekeeper · Umad Thundercrusher · Village Outcast · Warchief Clubhead · Warchief Grogrog · Warlock Zug Zug · Wrinkles Barrelgut · Zephyr, the Aeromancer