Captain Dreadleg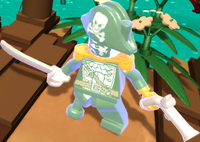 Boss

Captain Dreadleg is the boss of Volcano Island.
Tactics
Captain Dreadleg will build a cannon which players must avoid by building a small structure which features the wheel of a sailing ship and two masts featuring a sail. He also summons ghostly pirate ships that will shoot four projectiles at players.
Trivia
 The early Captain Dreadleg closely resembled Captain Brickbeard from the 2009 LEGO Pirates theme.
Captain Dreadleg was originally named Captain Blackheart in Closed Beta.
Captain Dreadleg currently resembles the Pirate Captain from series 8.
Gallery
Enemies
Regular enemies
Alpha Wolf · Ballista · Bewitched Treeman · Cannon · Corsair · Crimson Leg Crawler · Crooked Tooth Brute · Crooked Tooth Crusher · Crooked Tooth Crusher · Crooked Tooth Defender · Crooked Tooth Fizzler · Crooked Tooth Hunter · Crooked Tooth Hunter · Crooked Tooth Hurler · Crooked Tooth Piper · Crooked Tooth Ruffian · Crooked Tooth Shaman · Crooked Tooth Smasher · Desperado · Dragon Cult Brawler · Dragon Cult Crusher · Dragon Cult Piper · Dragoon · Ember Hatchling · Fire Hound · Fire Monkey · Forest Leafling · Forest Leafling · Forest Treeman · Grenadier · Grey Wolf, Summoned Wolf, Boom Shroom, Spore Shroom, Sweet Tooth Fizzler · Hophop Shroom · Hophop Shroom · Hunter · Icefoot Ruffian · Jester's Crony · Jungle Trickster · Lieutenant Gruffy · Medic · Mudfoot Brawler · Mudfoot Crusher · Mudfoot Defender · Mudfoot Hunter · Mudfoot Piper · Mudfoot Shaman · Musketeer · Pirate Cannon · Razorback · Scallywag · Scout · Skeleton Defender · Skeleton Fighter · Skeleton Fighter Crooked Tooth Brawler · Skeleton Musketeer · Skeleton Swashbuckler · Skeleton Vanguard · Spider Egg · Spider Mound · Spiderling · Summoned Gremlin Spawned Gremlin · Moon Gazer · Summoned Skeleton · Summoned Spider · Sweet Tooth Fizzler · Sweet Tooth Ruffian · Tiger · Witch Doctor
Champions
Arrgo Chief of Cargo · Beastmaster Wulfgar · Big Bad Wolf · Black Widow · Bork, Guardian of Fire · Bull the Armsmaster · Captain Dreadleg · Captain Pete · Charr the Gatekeeper · Chlora the Fungomancer · Chug · Chunk the Tiger · Crazy Kotaki · Crikey the Kraken · Crimson Leg Gargantuan · Derp the Internet Troll · Fireling · Giant Spider · Gnaw, Guardian of Strength · Grollsh, the Nightkeeper · Guardsman Bob · Gunnar Grenade · Harry Grenade · Hoodai · Itsy Bitsy · Jester · Karna Itta · Krash, Arena Champion · Krook, Guardian of War · Lieutenant Gruffy · Maggut the Beast Tamer · Mandreas · Monkey Kong · Mukko Serioso · Ouch Ouch · Packmaster Uhrik · Pieromancer Elementius · Quicksword Billy · Rack · Rall · Rattely Bonesly · Redwing the Firequeen · Rezaruh the Ancient · Rootbrick · Schweethurt · Siegemaster Orrok · Skimpy Bob · Skram Gatecrasher · Smuggy Totembound · Temper · The Bridge Troll · The Chamberlain · The Weaver · Tic, Tac, Toe · Tikka Bomba · Totemus Maximus · Two Eyed Willy · Twonky the Laboratorist · Tyrant, the Drill Sergeant · Uggluk Gatekeeper · Umad Thundercrusher · Village Outcast · Warchief Clubhead · Warchief Grogrog · Warlock Zug Zug · Wrinkles Barrelgut · Zephyr, the Aeromancer